NPS

xd
Presenting analysts with operational data in a geo-spatial context
NPS

xd

is used by more than 25 UK police forces to help understand their operational landscape and support crime and incident analysis.
Better detection
Originally developed with engagement from the Home Office, NPS xd brings together a whole range of data on incidents, crime, operational resources and more, presenting visual pictures and patterns of your day to day policing challenges.
You can monitor performance against national and local targets and combine external information, such as demographic profile data, with your own to identify the areas of highest risk and take more effective action.

Shared analysis
NPS xd's menu-driven interface gets people up to speed fast and enables analysts in multiple departments to work as a single team. Data and analyses can be shared both within your force and with other agencies, enabling the most appropriate response to both strategic and tactical issues.
Quick connections
NPS xd is part of our Universe GIS platform so all data works across the components, enabling quick sharing of operational GIS information through the web client xWeb and the Control Room application, xc. Third party data from other sources and systems can be easily imported to add value and context to analytical studies.
NPS

xd

Evidential Mapping was developed in partnership with the Home Office and is avaialble to every UK police force
Connects multiple data sources , helping to visualise demand today and tomorrow and plan a more effective response
Shares data with

xc

Desktop and

xWeb

to create single, efficient GIS platform for the whole force




Cuts out costly integrations through Open GIS Consortium web services that allow direct interface with third party systems



Enables in-depth analysis of large volumes of data
Offers secure, permission-based access
With NPS xd, you can:
Spatially review historic incident data to help with future resourcing schedules, e.g. Choropleth Analysis, Grid Analysis and Kde Hotspot Analysis
Locate mobile telephone mast sites and combine them with terrain elevation data to determine cell site coverage and usage
Integrate with your gazetteer to enable immediate access to locations of interest,e.g. plotting places of worship, schools, ATMs etc in conjunction with historic crime data
Query external data sets spatially, e.g.drawing a polygon around a housing development and returning all occupants' names within that area when querying Experian's NameTracer dataset
Create "evidence packs" for Court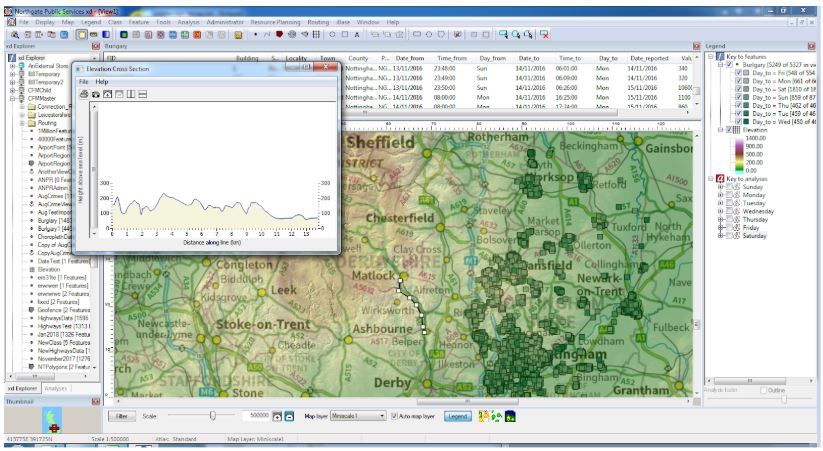 This image shows an elevation cross section along a selected piece of road. It can help to identify areas where telephone masts may be affected by the shape of the landscape or just to look at the gradient of a route.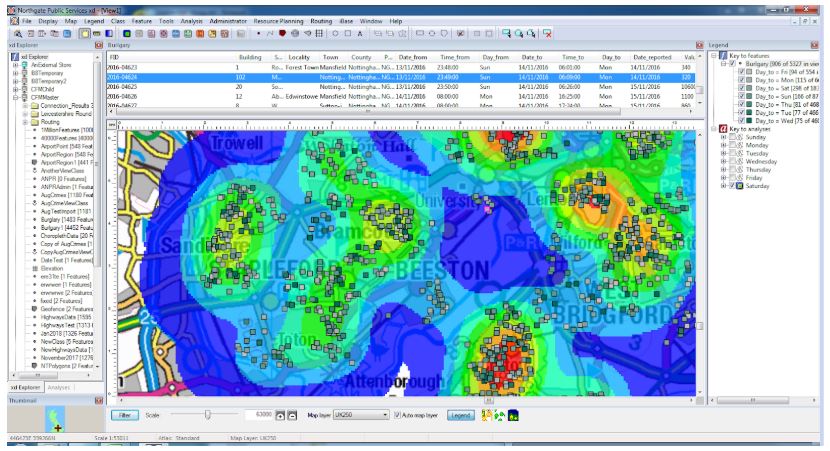 This image shows a hotspot analysis, whereby an analyst may be looking to help to decide where additional resources may need to be located and on what day of the week. Or they may be looking for additional information to try and locate trends and patterns in the data.
Contact us
To help us get your message to the right team, please complete this form with as much detail as you can. We'll get in touch soon.
Northgate Public Services (UK) Ltd • Peoplebuilding 2 • Peoplebuilding Estate Maylands Avenue • Hemel Hempstead • Hertfordshire • HP2 4NW
Share on social