Spotlight - International Registries

National Joint Registry
The National Joint Registry (NJR) for England, Wales, Northern Ireland and the Isle of Man has collected joint replacement data on hip and knee surgery since April 2003. Northern Ireland started to submit data in February 2013 and the Isle of Man from July 2015.
The NJR still continues to be the largest register of its kind in the world, with over 2.86 million procedure records submitted to it as of 31 March 2019.

Hip Replacement
Records of over one million procedures, some with over 15 years of follow-up.
Hip surgeons are performing an average of 60 joint replacements per year.
This year's report confirms the increasing trend for hybrid hip replacement over the last five years.
Three and five-year revision rates have reduced over the last ten years, after the peak of metal-on-metal, and the introduction of NJR clinician feedback since 2008. Ceramic-on-polyethylene looks encouraging with longer follow-up, and as a bearing choice, this is increasing.
The number of revisions performed each year has decreased since 2012 despite higher numbers of primaries.
Knee Replacement
Records of over one million knee replacement procedures, with over 100,000 new cases being added every year.
Surgeons are performing around 40 cases per year on average.
Although the patient groups are not necessarily comparable, the results show the lowest revision rates for cemented unconstrained fixed bearing TKR and cemented TKR with monobloc polyethylene tibias.
The revision rates in cemented TKRs that are posterior-stabilised and those that have mobile bearings remain higher. The revision rates for UKRs remain substantially higher than for TKR, this is most marked in the patellofemoral replacement group.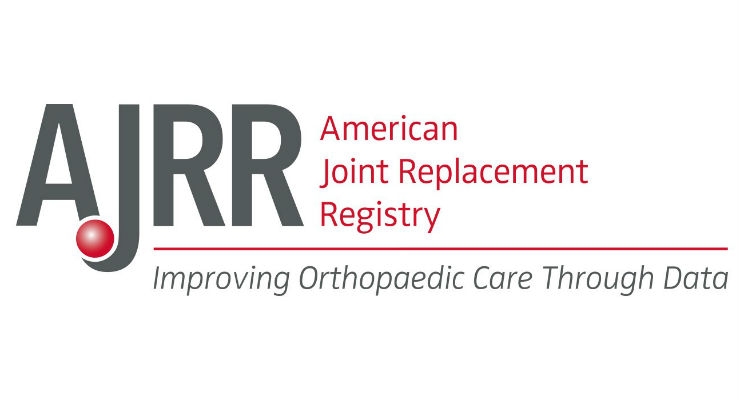 American Joint Replacement Registry (AJRR)
Created in 2009, AJRR has grown to be the world's largest national registry of hip and knee replacement data by annual procedural count, with more than 1.5 million procedures contained within its database.
In 2016, AJRR was selected to develop and host the International Society of Arthroplasty Registries' (ISAR) International Prostheses Library (IPL), which contains comprehensive and detailed device information. In 2018, AJRR completed three related pilots and launched the Library worldwide, per its ISAR contractual commitment. These development efforts were aided by expertise and funding from industry, including AdvaMed's Orthopedic Sector. The IPL is housed and maintained by AJRR and owned by ISAR. ISAR's IPL goal is to have the Library serve as a single source of medical device information and safety alerts for industry partners and ISAR member organizations throughout the world. Currently, the IPL is the only data repository of its kind.
Enrollment of participating facilities increased to 1,067, data were reported for 796 (75%) of those entities, and there was a 38% increase in procedural volume compared to last year's Annual Report.
AJRR surgeons performed a mean of 26 primary hip arthroplasties (THA) per year and 46 primary total knee arthroplasties (TKA), which represents an increase in TKAs and a decrease in THAs compared to 2016.
There was increasing use of ceramic heads, enhanced polyethylene liners, dual mobility constructs for both primary and revision THA.
Resurfacing procedures decreased in 2017 and are rarely reported.
The revision burden for THA continues to decrease, although numerous factors may contribute to this finding.
In total knee arthroplasty, posterior-stabilized fixed bearing designs remain most popular, but mobile bearing designs show slow and steady growth in the revision TKA setting. Unicompartmental knee arthroplasty (UKA) continues to decrease in our database, now representing less than 2% of the
knee arthroplasties performed.
For more information, check the latest annual report .
Register to Join IJR
Submit our details in the form below and our customer support team will contact you shortly for an online training session.