HGV Levy Bulletin
Christmas 2019 Edition
Welcome to the Christmas 2019 Edition of the HGV Levy Bulletin
This bulletin will update you about Brexit and the Levy, how the Levy Tariff changes in February affected Levy buying patterns, give you a few reminders and answer some frequently asked questions on the Levy.
The Customer Contact Centre (+44 30 101 3725) is open as normal over the Christmas and New Year period, closing only for Christmas and New Year's Days.
Brexit and HGV Levy
The UK is scheduled to leave the EU on 31 January 2020. This will have no impact on the HGV levy. The levy will still need to be paid as now before an HGV uses a UK road. If it is not paid, the driver will be liable for a roadside fine. The HGV levy payment portal will continue to be used for information notices relating to EU Exit.
Point of Sale Providers in Ireland
Whilst there is a lack of Point Of Sale providers within Ireland currently; we are actively working to find alternative POS Providers.
Recent Levy Tariff changes
As part of the Government's commitment to improving the air we breathe, from February 2019 haulage firms benefited from a cheaper levy if they used less polluting lorries when visiting the UK, in plans to improve air quality across the UK.
The cleanest lorries generate 80% less nitrogen emissions than dirtier ones. From February 2019, lorries (both UK and foreign) meeting the latest Euro VI emissions standards were eligible for a 10% reduction in the cost of the Heavy Goods Vehicle (HGV) levy. Euro V and older vehicles, which do not meet these emissions standards, pay 20% more, except where the levy is already set at its maximum rate allowable under European legislation.
Many European countries operate charging schemes for HGVs and the UK HGV Road User Levy, introduced in 2014, was brought in as a first step to ensure lorries pay a charge to cover the greater wear and tear they cause to road surfaces than other vehicles. This change to the Levy was intended to incentivise the industry to choose less polluting lorries.
The table below shows the countries buying most levies in this financial year so far, and shows what percentage of these were more polluting and what percentage cleaner, vehicles.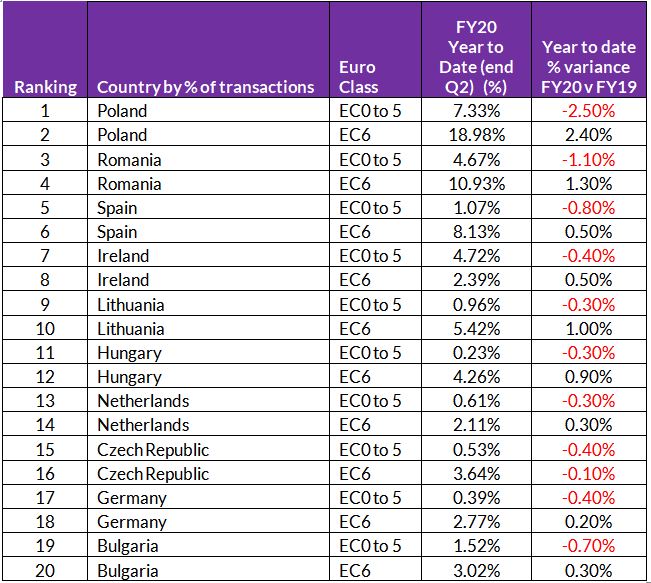 Levy Duration Buying Patterns
The table below shows how Levy duration patterns are broken down in buying patterns. As we can see below, whilst there has been a drop in the number of daily, weekly, monthly and annual levies bought over the financial year to date, there has been an increase in the number of 6 monthly levies bought.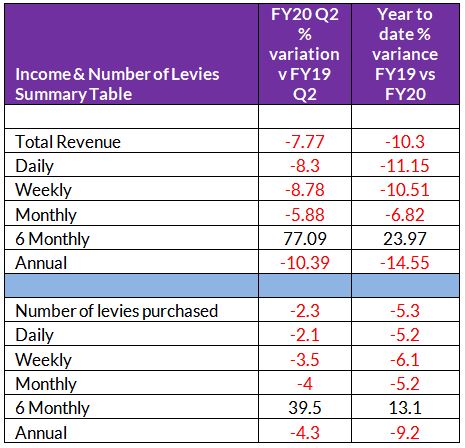 Enforcement Action
DVSA took enforcement action against 3,809 vehicles in 2018/19.
2019/20 YTD is 2,424 fixed penalty notices issued with a projected Year End total of 3,726.
Routine Maintenance Windows
Please note that monthly 00:01 - 04:00 routine maintenance windows are scheduled for the system and a notice is put on the portal when these are taking place. 
New IBAN and Sort Code Reminder
Our sort code and IBAN codes were changed on 16 October 2017. Please check any records/automated payment templates to ensure the bank details you hold for us are correct, in line with your own payment control/ practices. You may have already received and acted upon an automated advice regarding this and/or seen revised invoicing and billing details from us or Barclays.
Please note there are no changes to our account number.
New sort code 20-53-66
New IBAN GB83 BARC 2053 6633 9126 04
Old sort code: 20-53-33
Old IBAN: GB86 BARC 2053 3333 9126 04
It is important you make these sort code and IBAN code changes to ensure payments are allocated correctly at all times.
You can get in touch with the HGV Levy Customer Care Team on +44 (0) 330 101 3725 Or by email at: HGVcustomercare@northgateps.com
Not a frequent traveller to the UK?
We are reminding drivers and hauliers who don't often travel to the UK about their need for the Levy.
Buying the Levy
Some drivers and HGVs only come into the UK a few times a year and often one of these times is near to Christmas. If you are not a regular traveller to the UK, please don't forget that you need to buy the levy before travelling here. The good news is that over 95% of foreign HGVs that are checked in the UK have paid the levy. Any drivers stopped by the enforcement agency (DVSA) without a levy, or with an incorrect levy will receive a £300 on the spot fine. Failure to pay this fine straight away results in the vehicle being towed.
Levy Duration
Don't forget that monthly and annual levies are better value than daily and weekly levies if you often travel to the UK.
Payment Options
The HGV Levy payment site accepts card and PayPal transactions. Fuel cards remain the most popular way to pay for the HGV Levy. The fuel cards accepted are: AS24, DKV, E100, Euroshell, EuroWag, LogPay, UTA, MST and Routex.
Frequently Asked Questions
How can I register an account?
To register an account, go to https://www.hgvlevy. service.gov.uk/ and choose "register and pay". After you register, you will be sent a confirmation email with instructions on how to complete your registration.
Can I get a refund if I have an account?
Yes. If you purchase your HGV levy in advance, for a year or a number of months, you can get a refund. We base the amount of refund on the number of whole months you use before you claim the refund.
Can I get a refund if I don't have an account?
No. Refunds are only made if you have a registered account as we need to see a payment trail to the person who originally purchased the levy and this isn't always possible with unregistered levy payments.
How can I check if I have a valid levy?
To check if you have a valid levy, please visit our website and click on "check if a non-UK HGV has a levy". You then need to enter the registration number of the vehicle. If the vehicle has a valid levy, its details will be displayed.
What should I do if my payment was unsuccessful?
If the payment was unsuccessful it will be blocked for 30 minutes. You will need to wait 30 minutes and then retry. This is for security reasons, to prevent you from paying twice for the same levy.
How can I reset my password?
Every 3 months your password will expire. To change your password, please visit our website at www. hgvlevy.service.gov.uk and click "forgotten your sign in details?" Your new password needs to be different from previous ones and contains at least 8 characters, with at least a number, an uppercase letter and a lowercase letter. You will then receive an email with an activation link. Click on the link, then log into your account using your new password.
I haven't received my receipt?
A receipt for a levy is sent to your email address or mobile phone. If you haven't received an email receipt please check your email address is correct on our system. It's also worth checking your spam/junk email. A duplicate receipt is available for registered purchases only. To access this, please log into your account and click on the levy period. From here, you can then request a duplicate receipt.
I have been issued with a fine for not purchasing a valid levy. How do I pay/appeal the fine?
For all queries relating to levy fines and appeals, please see the details on the reverse of the fixed penalty notice. If you would like to contact the Enforcement Agency call them on +44 343 222 2222.
Wishing you a very Merry Christmas and Happy New Year from the HGV Levy Team